The management and operation of DDEX is governed by the terms of its Operating Agreement. As well as the governance terms this document contains DDEX's intellectual property policy and the standards development process. All organisations wishing to become a member of DDEX are required to sign a Member Acknowledgement Agreement by which they agree to comply with and be bound by the terms and conditions set out in the Operating Agreement. Copies of the Operating Agreement and Membership Acknowledgement Agreement are supplied to organisations applying for membership of DDEX once that application has been approved by the Board. The membership application form is available here.
The governance structure of DDEX  is represented by the following diagram: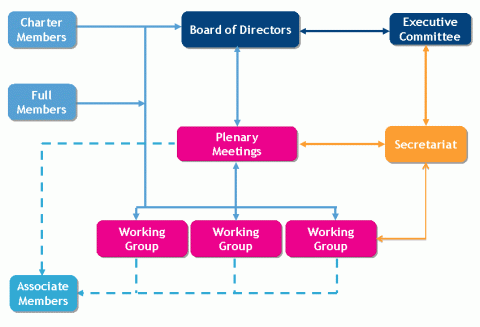 More information about member categories and benefits can be found here.
DDEX Board
The Board of Directors of DDEX consists of one representative from each of the Charter Members. There are currently 18 seats on the Board filled, with a limit of 21. The balance of Charter members of DDEX is currently split roughly one third for owners or administrators of musical work, one third owners or administrators of sound recording rights owners and one third digital music retailers and technology service providers. The DDEX Board is responsible for the strategic direction of DDEX. The Board takes advice from all the members of DDEX, either directly or through Plenary Meetings and Working Groups, to assist in decision making.
Executive Board
The Board of Directors appoints an Executive Board which consists of two representatives from each of the three sectors described above. The Board also appoints a chair whilst other responsibilities such as treasurer and secretary are allocated by the Executive Board. The Executive Board is responsible for ensuring the day-to-day operations of DDEX are carried out in a way that meets the strategic direction agreed by the Board.
The current Executive Board members are…………..
Secretariat
The Board also appoints the Secretariat which is responsible for ensuring that the technical work required is carried out in as efficient and a speedy manner as possible and that it meets the requirements of the membership. The Secretariat also manages the promotion of DDEX, member and liaison relationships and recruitment, accounts and DDEX's operational infrastructure. The Secretariat works on a day-to-day basis with the Executive Board to ensure the strategic goals set by the Board are met.
The members of the Secretariat are……………….
Keep up-to-date – Join our Mailing List